Keith: Having grown up on the DelMarVa penninsula it was obvious to me that I had to go back to my roots for this ingredient. Historically a crab cake made with blue crab has been attributed to Maryland. Yes the blue crab flourishes in the Chesapeake Bay but did you know they also do very well just to the north in the Delaware Bay.
Lindsay: I chose to use my portion of the blue crab in a recipe for Chili Crab Pasta. I really enjoy this recipe because it has some Asian influence, with its use of ginger, soy sauce, and fish sauce, but the flavors don't scream Asian food. The first time I ate this dish, it tasted like a full-flavor Italian Pasta Dish, but with each bite the Asian influence came to light. Like most Thai-influenced recipes, this recipe combines flavors of salty, sweet, spicy, and sour. Fish sauce and soy sauce are used in place of salt, ginger and chili paste give the pasta little kick, and eggs are used to thicken the sauce. The sauce has a hearty aroma and character of good comfort food, but it is light enough to avoid overpowering the delicate flavor of the crab. The resulting dish is a satisfying meal bursting with flavor. Enjoy.
Maryland has a larger crab industry and thus they have better PR. Over the years I have become somewhat of a crab cake snob. Normally I avoid any listing on a menu that lists 'Maryland Style' crab cake. If they have to point out a 'style' then you are not in Maryland or Delaware and it just won't be good. The worst offense in the construction of a crab cake is TOO MUCH BREAD. I can't say that enough. Too many recipes (even those of big name chefs) call for an oversized amount of bread crumbs providing for a soggy bready mess. It is a crab cake not a fried bread cake. In researching for this post I created my own recipe that reflects what I feel a crab cake should be. Just enough ingredients to hold the crab together leaving the crab itself as the center of attention. I prefer a broiled crab cake but they can just as easily be pan fried to give them a crispy crust. A good crab cake will change your life. Thanks.
I love all types of cuisines from around the world, by my all time favorite has always been Italian. Any type of Italian Pasta Dish is such a comfort food for me. My favorite is carbonara, which I make in a variety of ways.
It's quick, cheap and easy ' my favorite qualities for weeknight recipes. Pictured above is an amazing red pepper pasta with lots of black olives. It's the perfect pasta when your family loves olives as much as mine does. I've included in the slide show below my favorite pasta recipes from my site and from our own expert Italian blogger's site, Bell'alimento written and published by Paula Jones.
I can hear everyone saying ' but pasta is Italian. Actually, pasta did not originate in Italy, but rather in China. It was however the Italians who have regulated the making of pasta ' durum wheat only, and who taught us that pasta should be eaten al dente.
The reason I have called this dish Italian Pasta is because the ingredients I used are all Italian, beautiful cipollini onions, Italian sausages and Roma tomotoes. I am in love with all things Italian ' and last night my friend Kim was commenting how anything sounds good when said in Italian. Mi scusi, sono d'accordo. We spoke last night of Florence and Rome, Sienna and Assisi and all the other lovely places we are planning on visiting. But in the meantime, home cooked pasta will have to do.
Tip #8: Use Pasta sauce, not oil, to keep your Pasta from sticking together in the serving dish. If you plan on dishing out the Pasta at the table and then ladling the sauce over it on the plates, you will need to do something to keep the Pasta from fusing into a giant mass before you can serve it. Some people toss the Pasta with olive oil, which gives it a pretty sheen, but I strongly recommend using a small amount of the Pasta sauce instead.
Tip #7: Drain your Pasta BEFORE it is al dente. Pasta continues to cook in the colander and the serving dish, so if you drain the Pasta when it's the perfect consistency it will be overcooked by the time you serve it. When you taste your cooking Pasta, you are looking for a consistency that is *almost* right, but is still slightly too firm. It shouldn't be crunchy, but it should be more than al dente. (NOTE: If you are planning on using the Pasta in another recipe where it will be cooked furtherfried Pasta, lasagna or Pasta al fornoyou should take it out a full two minutes early, when it's even firmer and more undercooked.).
Olive oil simply doesn't work very well for the task, since it is absorbed so readily by the Pasta. Also, drizzling cold olive oil on the warm Pasta is counterproductive. Instead, ladle a small amount of the Pasta sauce into the Pasta serving dish and toss it thoroughly. It's not quite as pretty a solution, perhaps, but it works much better. Article body: getting rid of the mortgage early is something that many home owners in the uk aspire to achieve.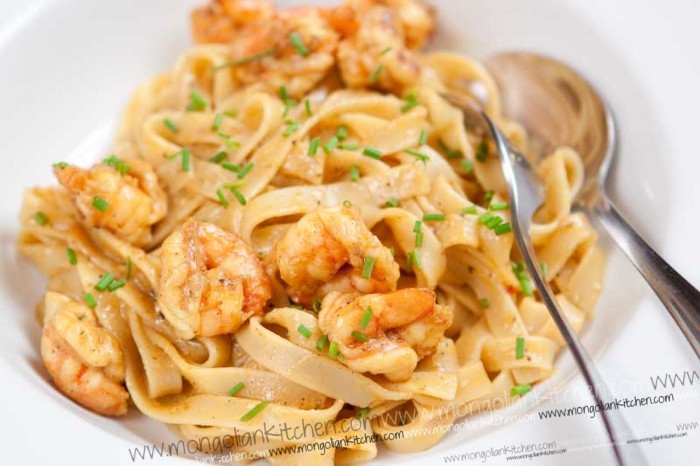 Prawn Thai curry tagliatelle Recipe Ingredients 1 tsp Thai Yellow Curry Paste 1 tsp garlic puree (or minced garlic cloves) 1/4 tsp turmeric 100ml coconut cream or thick coconut milk 50ml vegetable stock 1 tsp sugar 1/4 lime juice Raw king prawns Tagliatelle fresh chives for garnish Method First de-gut the prawns Marinade the prawns with the curry paste, garlic and turmeric for 5 minutes Start the tagliatelle cooking in a large pan of boiling water Heat a 1 tbsp oil in a large frying pan or wok Add the marinated prawns and fry for 2-3 minutes until golden Add the coconut milk, sugar & vegetable stock and simmer for 5 minutes. By now the Tagliatelle should be cooked. Drain and add.
The result was asurprisinglyeasy and delicious Dish that we now eat regularly. Feel free to substitute the prawns for chicken pieces or if you take both of those out you have a simple and wonderful vegan recipe. The beauty of this Dish is it takes as much time to cook as it does to prepare your tagliatelle'that is 8-10 minutes. The curry sauce will be done in around 5 minutes so you only need to allow time for any raw ingredients (prawns, fish or chicken) to cook.
Squeeze over the lime, taste for seasoning and serve, topped with chopped chives.
Where you can fuel up before or after the race. Because researchers have shown that man cannot live on bike crashes alone, we bring you our look at grub spots in the racing area. Each section's full of stops where you can drink, dine and perhaps even dance for next to nothing, as well as others that will reward you for dropping a few pretty pennies.' Italian Pasta Dish
Pasta With Bacon, Artichokes, Gorgonzola And Pistachios is another Northern Italian Pasta Dish that also has roots in Sicily the difference in the Sicilian is more pepper is added for the fiery tastes that Sicilians have for their food. This is a very rich pasta dish and is made with an ingredient that you don't often find in pasta dishes and that is nuts. Please try this recipe I know that you will just love it.
Rich, this dish looks incredible. I love using nuts in my pasta dishes. The flavor combination you've come up with here is to die for. I also like the tip about using the bacon ends. At the end of the video I just want to dive into my computer screen and into your plate of pasta. Oh and I almost forgot I just love your incredible pronunciation of the dish. Keep cooking my friend.
and please visit my blog at http:www.richardblainesezcooking.com and www.richardblainesezcooking.com I have a fellow foodie here at YouTube that makes some really excellent dishes of all types. Her name is Sandy and here channel is www.youtube.com and she has a really excellent blog as well. Check out one of her excellent pasta dishes here at: easycookingwithsandyb.blogspot.com.